LaunchWoo has long tried to be a lot of things. It's a web hosting service, a marketing blog, a web development blog, and the company website for my web design business.
I'm not giving up on LaunchWoo, but it has been refreshed, re-thought, and re-launched as slimmer magazine-style resource for eCommerce store owners.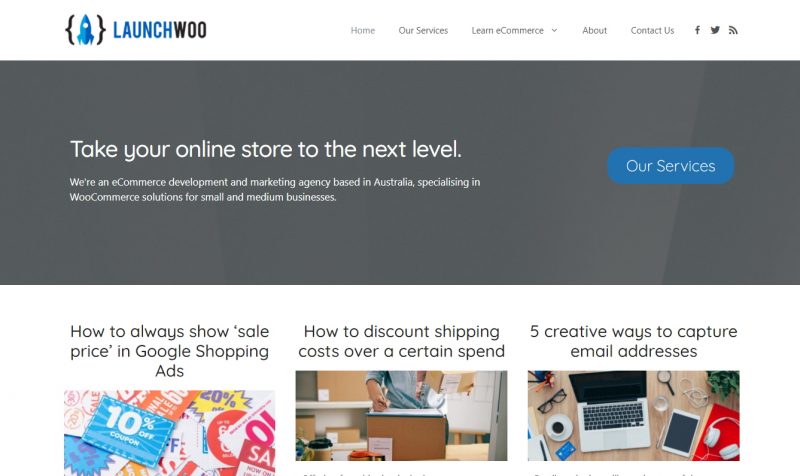 The new design
The new LaunchWoo site is built on GeneratePress and GenerateBlocks, two utterly indispensable WordPress products.
GenerateBlocks adds simple grid and container blocks to WordPress' new Gutenberg editor, which makes it possible to create complex layouts very quickly and without needing to write any code. Redesigning LaunchWoo took me literally a single afternoon and required maybe ~150 lines of CSS.
LaunchWoo is now the 5th site I've switched over to the Gutenberg editor. It's really grown on me.
Exiting the DIY web hosting business
It just wasn't worth the effort.
LaunchWoo's hosting service will now only be offered to LaunchWoo web development clients. Obviously no existing DIY hosting customers are going to be kicked off the servers—their plans will persist at the same price indefinitely—but no new signups will be accepted.
No more Entrepreneur's Brief
The Entrepreneur's Brief was a monthly newsletter featuring summaries of my 10 favourite eCommerce/marketing articles from the previous month.
The subscriber count was slowly growing, but not at a rate that justified the enormous amount of time required to compile it.
LaunchWoo's "eCommerce Events Calendar"—which was also part of the newsletter—has been dropped as well. It really got no traction at all.
So what's the plan here?
The new design de-emphasises the services LaunchWoo offers, while removing the hosting service that was the primary passive income source.
At this stage, it's basically just a blog. One that doesn't even have any ads.
That's not necessarily a bad thing. SingularLabs started off as a blog, and it's now a profitable (though admittedly dying) software business. Aviculture Hub was just a blog and it's now a profitable retail business. I've found that when you successfully build an audience, an opportunity to make money eventually just appears.
So that's what I'm going to do—build an audience by taking the time that would have been spent on newsletters and calendars and supporting hosting customer and using it to write good articles.