The answer is dropshipping, a business model where a company sells products without actually holding stock. Earlier this year, I launched Pet Village on a tiny budget and used pet supplies dropshipping services to pack and ship orders.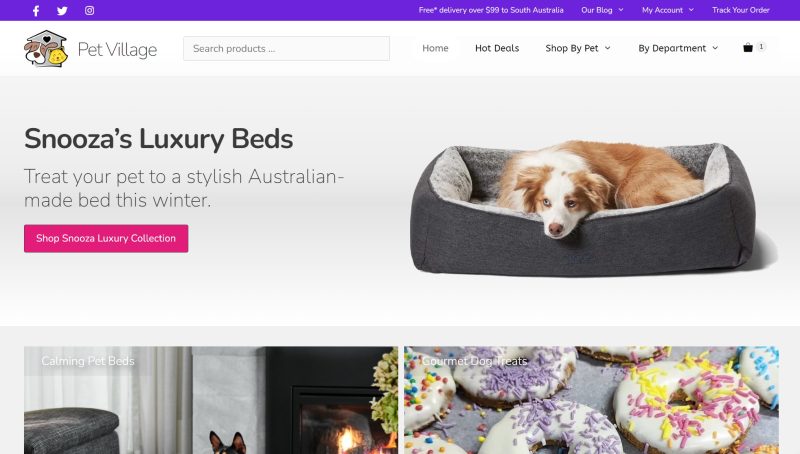 In this article, I share the services and strategies I used to launch a specialty pet store into the Australian market for under $500, that now produces almost $1,000 of passive income every month for under a few hours work.
Pet Supplies Dropship Services
There are a very limited number of pet supplies wholesalers that offer dropshipping services in Australia.
Flea Circus Pet Supplies
Flea Circus Pet Supplies offers and enormous range of toys and treats, including some well-known brands like KONG and Zippy Paws. Their range seems to focus exclusively on small items that can go through standard post, so you won't find any big bags of dog food or beds for anything bigger than a Shih Tzu.
When Pet Village first launched, their high shipping rates made the service non-viable for smaller dropship orders, however they've become much more competitive in recent months. Nevertheless, it's sill cheaper to buy from Flea Circus in bulk and ship the individual orders myself. That kind of defeats the purpose of dropshipping, so they don't get much of my business.
Agline Dropship
Agline Dropship is the pre-eminent pet suppliers dropshipper in Australia. They boast a broader product range than any of their competitors, and provide extensive information and marketing resources to help their dropship customers succeed.
The requirements applicants need to meet to become an Agline dropshipper are much higher than other suppliers, so you'll need to do a lot of the groundwork before you can open an account. They require that you have a completed/active eCommerce website, and that you have an ABN and business name registration.
Once your Agline account is setup though, their selection of premium pet products (particularly the high-end accessories like harnesses, bowls, and beds) are where you'll make the bulk of your money. They also stock all the big name dog food brands, but as a small dropship business, your buying power doesn't give you much buying power of these products. It's best to stick to the smaller "indie" brands.
AliExpress (and other Chinese dropship services)
Even a few years after the worst of the COVID-related global supply chain crisis, it still remains infeasible to fulfill customer orders in Australia from dispatch facilities in China.
Australian consumers generally do not tolerate the 2-3 months it takes for parcels to arrive from China. It's also become increasingly more expensive to post goods from China (due to high fuel prices), so profit margins on Chinese imports are substantially lower than they were in the pre-COVID era.
The Expenses
Domain Name + Hosting – $29.00
An Australian (.com.au) domain name currently costs about $20.00 a year. There's also website hosting to take into account if you're using WooCommerce, or subscription fees to account for if you're using Shopify.
I prefer to use WooCommerce, as that's the software I'm most experienced with; and it has the added benefit of being (mostly) free.
Business Name Registration – $39.00
Agline requires that all of their dropship account applicants have a registered business name. If you don't have an ABN (Australian Business Number), you'll need to register one of those as well. While ABN registrations are free, the business name registration will cost you $39/year.
WP All Import – $149.00
The WP All Import WooCommerce Import Package is used to automatically sync the stock levels of products on my store with what the dropship suppliers have on hand. This prevents the situation where a customer orders something that the supplier doesn't currently have.
Currently, Agline is the only local dropship provider that offers this service, but it's so fundamental that eventually the others will probably offer it as well.
Google Ads Initial Campaign – $100.00
I'm relying almost entirely on Google Shopping Ads to generate sales for Pet Village. Once someone has bought once, the newsletters and automations come into play; but it's Google Ads and a bit of organic search that brings them in initially.
Google Shopping ads are particularly effective because they only target potential customers who are actively looking products we stock.
Quite often, Google will offer free ad credit for brand new Google Ads accounts that spend a certain amount. Keep an eye out for these, because they can be quite generous. The $100 spent on the initial Pet Village campaign was rewarded with $200 in free ad credit.
WordPress Theme – $59.00
There are many excellent WooCommerce-compatible WordPress themes available that will allow you to launch an attractive online pet store in a few short hours. There are free themes available if you want to keep costs as low as possible, but I never miss an opportunity to recommend the brilliant GeneratePress theme—currently $59/year.
If you're not tech savvy at all, you can hire a WooCommerce consultant to handle the website implementation for you.
AutomateWoo – $99.00
If your goal is to create a low-effort stream of passive income, you don't want to be investing a lot of time into marketing. That's where "marketing automation" tools come in great. There's lots of them to choose from, but I personally love AutomateWoo. You can use it to create all kinds of automated follow-up emails that keep customers engaged and coming back.
In addition to the various automations, I also set aside 2 hours a month to create and send a catalog/newsletter (using the free Newsletters plugin) and to schedule a bunch of social media posts using Buffer ($10/month)
The Results
I've maintained an ad spend of about $200 a month, which typically translates to between $3,000 and $5,000 of monthly sales. On an average profit margin of ~20%, I'm making $500-$1,000 a month from about one hour a week a work.
Another advantage of running a dropship store is being to use stock purchases to farm Qantas Points. In the year since I started Pet Village, I've accumulated enough points for get two free domestic business class flights; which is a neat little bonus.
Full disclosure: I have consulted for Agline Animal Health & Nutrition to assist the with development of their dropship service.