Marketing automation refers to services and software that automates common marketing tasks. The easiest way to automate the marketing of your eCommerce business is to send emails to customers when they meet certain conditions. An email could be triggered by something as simple as a customer leaving your store without purchasing.
In this post we'll look at the different kinds of automated emails you can send, as well as several services that can take care of this for you.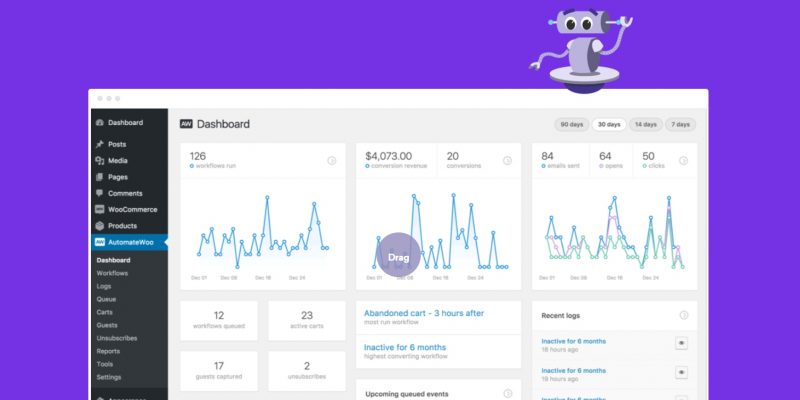 Why is Marketing Automation essential?
Once your marketing automation software is setup correctly, it's like having a free staff member that works 24-hours a day, seven days a week. Automation, when done right, can significantly boost revenue and reduce the amount of work that goes into sales acquisition.
Types of Automated Emails
1. Abandoned Cart Recovery
This is one of the more common automation used. When someone visits your store, adds something to their cart, and then leaves without purchasing, you may be able to recover the sale by gently reminding them that they left something in their cart.
This only works with customers who have previously purchased something from you, as you'll need to have obtained their email address at some point beforehand.
2. Follow-ups & Feedback Solicitation
Providing social proof is important part of getting visitors to trust you enough to complete a purchase. Stores generally receive
3. Scheduled Reminders
Do you sell consumable or perishable products that need to be re-purchased at fairly predictable intervals? Sending customers an email just as they're about to run out of a product is a great way to improve your chances of getting a repeat purchase.
If you're not sure of the buying interval for your products, you can use data from your previous repeat sales to figure out an average, or put together a quick survey.
4. Recover Lapsed Customers
If a customer—particularly a previously loyal and frequent customer—hasn't shopped with you for quite some time, checking in on them with an automated email might help you to win them back.
Even if you aren't able to recover them as a customer, you might be able to gather feedback as to why they stopped shopping with you in the first place. Did they have a bad customer service experience? Are your prices no longer competitive? Sometimes the only way to find these things is to ask.
Recovering lapsed customers doesn't necessarily need to be time based. If your store sells subscriptions, you could trigger an automated email when a customer's pauses or cancels their subscription, or if their saved credit card expires or declines.
5. Celebrate Milestones
There's so many different milestones you can acknowledge. You could:
Celebrate their first purchase with a discount on their next order.
Wish them a happy birthday (although getting their date of birth can be tricky)
Send a "thank you" after they've shopped with you a certain number of times
Use milestone emails to make your customers feel appreciated and connected with your brand. Even if these rarely convert into actual sales, it's still really helpful to periodically remind customers that you exist so you'll be thought of next time the customer is shopping for something in your category.
Recommended Marketing Automation Services
Below we'll look at three easy-to-use marketing automation services that integrate with WooCommerce—our eCommerce software of choice.
AutomateWoo
AutomateWoo takes care of almost anything—even more advanced stuff like offering rewards in return for positive reviews, incentivizing referrals, or notifying customers when a product they like goes on sale.
AutomateWoo costs $99 a year and is only available—as the name suggests—for WooCommerce. For best results, you'll need to combine AutomateWoo with a specialized email-sending service such as Amazon SES.
MailChimp
MailChimp is the oldest kid on the block in the email marketing space. Their free tier—valid for up to 2,000 subscribers—can handle all of the essential marketing automation tasks, like abandoned cart emails or product re-targeting. They have a WooCommerce integration plugin, but it doesn't work particularly well.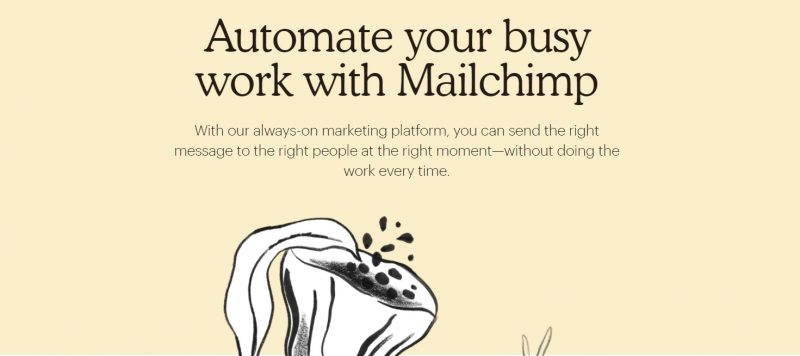 Follow-Ups
Similar to AutomateWoo, Follow-Ups is a WooCommerce plugin that handles a wide variety of different marketing automation tasks. Its primary function is sending emails at specific intervals after the purchase of specific products, but it has other neat tricks too—such as sending followups via Twitter. It can also do one-off or newsletter-style email blasts, so it can be used as a replacement for more comprehensive services like MailChimp.
As with AutomateWoo, you should leave the actual email delivery to a specialist transaction email service.
Closing Thoughts
Email has one of the best returns on investment of any form of digital marketing. If your business isn't taking advantage of it, you're absolutely missing out on revenue.
To ensure your marketing automation setup is as good as it possibly can be, make sure it's set up by someone who knows what they're doing.