Producing great content and putting a few AdSense units into the sidebar was once a decent monetization strategy. Up until very recently, one could make a pretty decent amount of money with display advertising.
Although the traffic on my blogs has grown in the last couple of years, the amount of revenue generated by AdSense has slowly declined. The is indicative of a wider industry trend, at least partially triggered by a massive increase in usage of adblocking tools such as AdBlock+.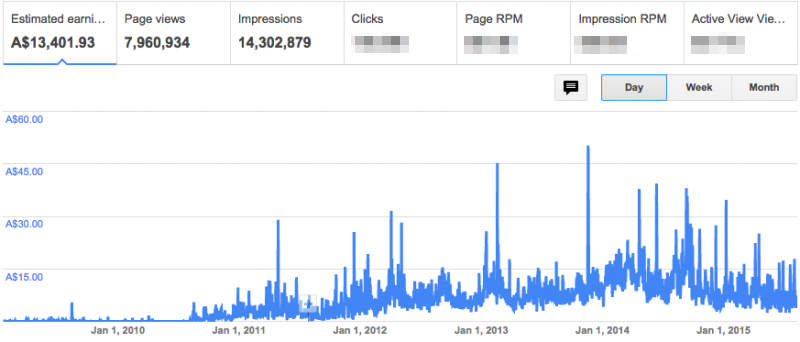 A recent report by PageFair claims that use of ad blockers has increased by 41% in the last year, with a total userbase exceeding 200,000,000 users and costing publishers an estimated 22 billion dollars of annual revenue.
This isn't another plea for people to disable their adblockers en masse so that we publishers like me can continue to rake in cash. The business model is obsolete, I get it. Years of creepy tracking, bandwidth intensive, intrusive and ugly ads has rightly pissed off a lot consumers and this is the expected outcome. Users don't need to change their behaviour or inconvenience themselves to support the websites they love; the websites they love need to come up with better ways of making money.
Though it's incumbent upon publishers to change adapt their monetization strategies, users will inevitably need to accept that somebody must pay for the content they consume. Subscriptions, native advertising and pay-per-view microtransactions are going to grow prolifically as display advertising continued to decline. At least until someone comes up with a better solution.