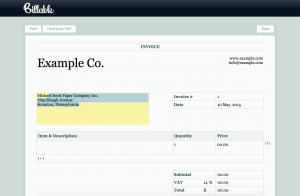 Billable is a super easy web app that allows you to create professional looking invoices from inside your web browser. It's great for someone like me, who very occasionally needs to produce an invoice, but not often enough to bother setting up traditional billing/invoicing software. It was created by @Appfactory and is completely free with no strings attached.
There's dummy data in all of the text fields, which can be edited by double clicking on the fields and adding your own text. Billable is clever enough to add up the prices of all the items on your invoice to generate the subtotal, then automatically determines the total price while taking tax into account. Once your invoice is done, you can either print it immediately or export it to a PDF file.
Billable works in all major browsers and also supports mobile devices.