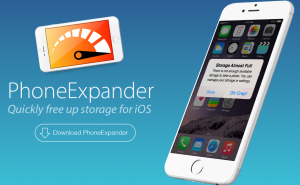 PhoneExpander is a bit like CCleaner for your iPhone or iPad. It runs from a Mac and requires that your device is plugged in to clean – this is to circumvent iOS' strict sandbox.
Is your iOS device running out of space? It's a very common problem! Apps, Photos and Music take up a ton of space, and after a while your phone can become unusable. It's not easy to clean out space, most people just resort to deleting their favorite apps. But now there's a new way: PhoneExpander can clear out the temporary files that are secretly filling up your phone.
PhoneExpander is currently free while it's in beta, however the final version will be a paid product. I'll leave it up to you to decide if removing junk files is worth paying for.