MetroTextual has always been one of my favorite projects, even though it hasn't gained the traction that I would have liked. Why? It's just not very good. MetroTextual is trying to do too many things; it's marketed as a "simple, minimalist" text editor, but there's a lot of interface complexity that baffles users. Want to save? Click the little options icon and… no wait, save is hidden under the program icon on the top right. Change the settings? There's an options button and a settings button. Even the context menu has it's own set of options.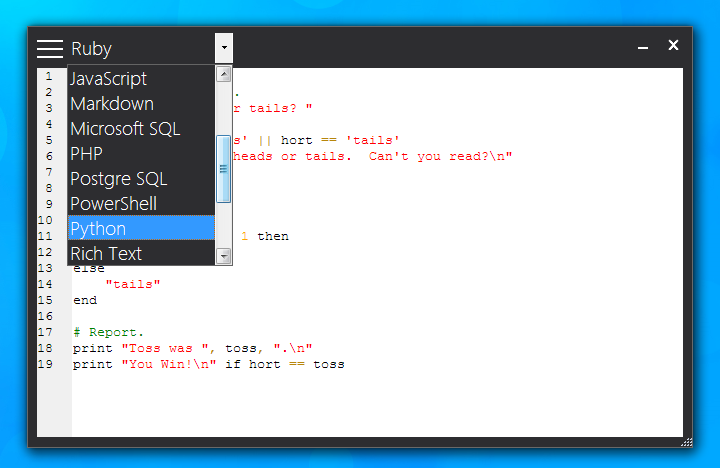 I sat down with a pen and paper and wrote down a set of tasks I might like to perform when I first open MetroTextual. Simple things like "change to HTML syntax highlighting," "open a file" or "translate the UI into Russian." Then I wrote down how many mouse clicks it took to perform each of these tasks. It didn't take long to realize there's very little MetroTextual can do with less than four clicks.
With MetroTextual's new layout, I've stripped back as much complexity as possible. The MetroTextual logo (and that weird attached menu) is gone, with the existing menu items moved to the existing sidebar and hidden out of view. To improve discoverability, the icon that toggles the sidebar has been replaced with a hamburger menu icon – similar to what you'd find in most mobile apps. Then I completely removed the 'metrotextual' title and replaced it with the 'text mode' combobox.
Next I worked on making it look visually slick. A darker 'Carbon' theme was designed, drawing inspiration from my upcoming Clippy project. This theme will likely become the default when version two finally launches. The challenge was adding this new radically different design, without affecting the existing. If you like how MetroTextual looked before, I'm happy to say that you can make it look virtually identical.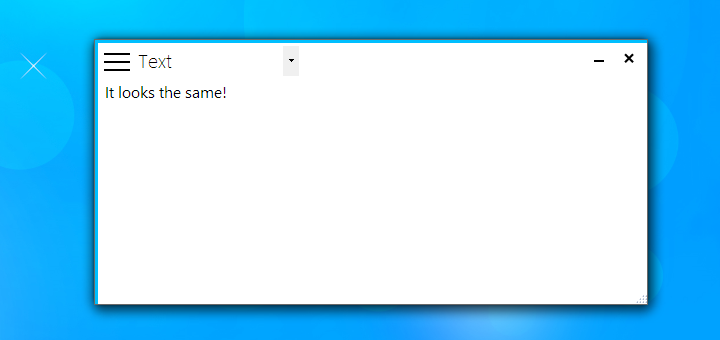 Finally, bug fixes. MetroTextual is trying to be a lot of different things at the same time. A plain text editor, a code editor, a markdown parser and even a rich text editor. These elements do not always play nice together, hence why MetroTextual has always suffered from more bugs than any software project should. I've spent a lot of time cleaning up the code and reducing the amount of chaos. This release is already a few hundred lines of code smaller than the previous. There's obviously still a long way to go on this particular stage of development.
And finally; features. There's really not many new features in this release. Sometimes it's nice to stop adding stuff and clean up the shit you already have. That being said, I'm exploring the possibility of supporting custom, user-defined highlighting rules and languages. I've also added Ruby support at a friend's request, but's that pretty minor.